At Wheelhaus, we want to support you in your transition to a tiny house. We often receive questions about how to best decorate our houses and thus decided to do a little research on how to make the most of small spaces.
We contacted Kristin Fay, co-owner at Trauner Fay Designs in Wilson and one of Jackson Hole's leading interior designers, regarding design principles for small spaces. She gave us a list of 7 recommendations to help our customers use space efficiently while creating a large feel out of a small space.
Her suggestions:
Use light colors. Kristin reports that "On walls, this will help the room appear larger. Add accents with pops of colors in furnishings."
Create multipurpose spaces and furniture. For example, she mentions "adding a sleeper sofa in the living room for guests, adding pieces of furniture that can double as desk spaces or dining table, or adding ottomans that double as storage.
Always utilize awkward  or "dead spaces. She pointed out the space below stairs, and also indicates that "walls in bathroom can be useful by adding floating shelving for storage space".
Use mirrors. She says "this helps not only reflect the space but also the light which helps the room appear larger."
Build Up. Regarding those spaces above the kitchen cabinets, she suggests to "build up." She proposes that you can "use any excess space above kitchen cabinets or in hallways by adding a loft or extra storage."
Hang draperies high. She tells us to "hang your draperies higher than normal" as this gives the illusion that your ceilings are taller than they are.
Keep it simple. Kristin suggests to do simple window treatments "to keep the space feeling open and not heavy." Furthermore, she proposes "using simple 'clean-lined' furniture will help give the feel of more space. For example a sofa with exposed legs feels more open that one with a heavy upholstered skirt.  Also, rather than a large closed-in armoire, opt for open shelving or glass doors on a piece." She warns to not over accessorize as this "adds to the clutter in a small space."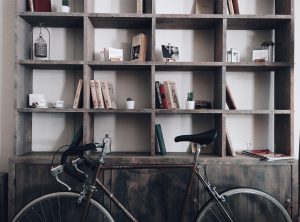 Following some of her recommendations can allow your small space to grow.  If you would like more suggestions about how to design and decorate your small space, please contact Trauner Fay Designs.
For more information about our various styles and specs, please contact us with any questions.
Alternatively, you can come and stay in one of our homes to feel the experience for yourself. Wheelhaus will continue to research and report on leading trends in small home developments to help you make informed decisions. We stand behind our products and want you to be happy with your choice! We can help you make your dream of living in a small space a reality!