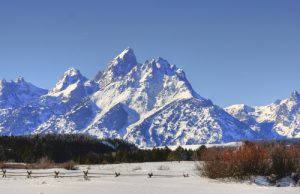 Spring is right around the corner in most of the country. Warm weather is not so soon in our future here in Jackson Hole, Wyoming, home of Wheelhaus. Don't pity us. We are still getting lots of snow and having fun skiing powder. It's a great life but that doesn't mean I haven't started indulging in my vacation home fantasy.
I live in Teton Village, right at the base of Jackson Hole Mountain Resort. This year the mountain was ranked the #1 ski resort in the country. Life is good. It's hard to say I need a vacation. When I say I need to get away people look at me like I'm Paris Hilton saying I need a vacation from my vacation. How can I be looking at the mountains as I type this blog drifting in and out of a fantasy about laying on a beach? Am I too spoiled? I don't think so.
Winters are long here. Work is still work. And, there is the creeping claustrophobia that is inevitable living in a small town that is aptly named Jackson Hole. I don't know where you live, but believe me, I support your need to get away. We all need a break from our normal routine sometimes.
Daily repetition wears on all of us. We need a few getaways a year to refresh, recharge and relax. And let's be real, once a year is not cutting it. Getting away needs to happen on a regular basis. Even a quick trip, a weekend getaway, has the power to restore you to your better self. But all the hassle keeps us from taking the breaks we need to function well. Where will you stay? Will it even be nice? Ugh, you have to pack so much. What are you going to do with your pet?
This is why we all have a vacation home fantasy. Do you long for the mountains? Are you an ocean person? Do you just need a spot an hour from your home where you can get away whenever you feel like it?
Wheelhaus offers a great solution for you. The rolling cabins are designed for ease of assembly wherever you want your vacation getaway to be. Whether craving some sunshine or snow, the cabins were also built to withstand extreme climates. These aren't your typical homes that roll. These were built with quality craftsmanship to withstand the harsh winters of Wyoming. The top-notch insulation is an asset in hot or cold climates.
The ultimate aspect of Wheelhaus as a vacation getaway though is the size and price. Most people think of vacation homes as a privilege of the 1%. Wheelhaus says why should they have all the fun? By keeping the cabins simple and emphasizing innovative design over lots of space, Wheelhaus is a vacation home for people who never thought they could have a vacation home.
So, where are you going to put your Wheelhaus? Time to start turning that fantasy into a reality. A Wheelhuas rolling cabin is easy to transport and can be set-up in 2-5 days! Your next vacation can easily be at your own vacation home.