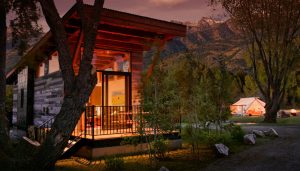 Supporters of WheelHaus-esque park model homes agree, the next-generation RPT needs a next-generation RV Park, which is why WheelHaus has partnered with Fireside Resort in Jackson Hole.
The luxury cabin resort boasts 19 of our "Rolling Cabins", each fitted with an open kitchen and living room, a bedroom big enough for a king-size bed and a private deck. The ski cabins succeed in marrying the appearance of reclaimed materials (the exterior features rustic cedar siding with a barnwood patina colored stain.) with modern conveniences (the cabins feature high-efficiency gas burning fireplaces and Kohler toilets).
The resort's guests agree that in spite of its tiny footprint (the cabins stand at 400 square feet) with no shortage of windows and 17-foot ceilings, their living quarters are anything but cramped. The result of this partnership is a unique addition to Jackson Hole's luxury lodging industry.
Interested in learning more about Fireside Resort? Visit their website.