2012 has been a big year for Wheelhaus, and in particular The Wedge Rolling Cabin, which has been creating a lot of buzz in the media. Read on for some of our press highlights from 2012.
WheelHaus Wedge Cabin – February 29th, 2012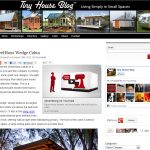 Tiny House Blog is run by Kent Griswold, who developed the blog as a result of his love for small spaces. The goal of Griswold's blog is to discover the different options available for a person looking to down size into a tiny house or cabin.
What Tiny House Blog is saying about WheelHaus:
"…the company is coming up with some great new designs."
"…if you are looking for a modern, ready made small home, this may be one to add to your list."
---
Wheelhaus Wedge is a Different Kind of Park Model Home – March 2nd, 2012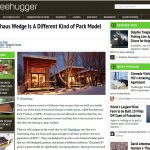 TreeHugger is the leading media outlet dedicated to driving sustainability mainstream. Partial to a modern aesthetic, TreeHugger strives to be a one-stop shop for green news, solutions, and product information.
What TreeHugger is saying about WheelHaus:
Wheelhaus' Rolling Cabins "…are designed to go into a new breed of trailer parks that are well designed, greener, and attract a different audience."
"…this could be the future of the tiny house movement, where small units are actually legal and welcome, and where there are common shared resources that compensate for living in such a small space."
---
The Wedge Tiny Retreat by Wheelhaus – March 9th, 2012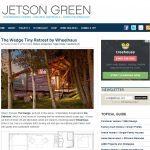 Jetson Green is a design-oriented site for sustainable homes, natural materials, and green technology that aims to enhance homes (and the lives of people in them) with beautiful design, smart construction, resource conservation, energy efficiency, water savings, healthy air, green technology, and renewable energy.
What Jetson Green is saying about WheelHaus:
"(Wheelhaus) is a company that's turning out next-gen recreational park trailers built with quality and sustainable materials."
"…the end result is a tiny yet open space with all the luxuries in a contemporary mountain style. Seems like a great way to reinvent the RPT."
---
The Wedge: An Eco Friendly Recreational Trailer Park by WheelHaus – March 12th, 2012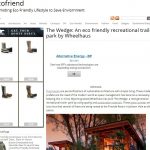 Ecofriend works toward promoting eco friendly lifestyle to save environment.
What Ecofriend is saying about WheelHaus:
"These green prefabs are so luxurious that several of these are being rented at the Fireside Resort in Jackson Hole as ski cabins."
"The bottom line is that with The Wedge, Wheelhaus has reinvented RPT's in a great way by providing contemporary mountain style luxuries in a small but open space."
---
14 More Modern Tiny Houses & Backyard Getaways – April 2nd, 2012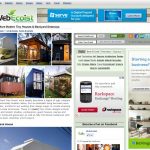 WebEcoist, a globally recognized website, is one of the most popular green websites in the world. WebEcoist spots and sets trends, covering everything from green gadgets, energy, technology and transportation to eco-friendly food, art, travel and do-it-yourself home projects.
What WebEcoist is saying about WheelHaus:
"Wheelhaus cabins are a modern interpretation of manufactured park model homes, taking these small residences from blocky and uninspired to welcoming and visually interesting."
---
The Wedge "Rolling Cabin" by Wheelhaus – September/October 2012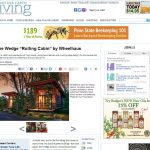 Mother Earth Living is America's leading magazine about sustainable, self-reliant living.
What Mother Earth Living is saying about WheelHaus:
"The Wedge, built by recreational trailer company WheelHaus, doesn't feel like your typical RV."
"Apart from creating a healthy place to live, Mackay also wanted a unit that was architecturally interesting and durable—and one that would last years beyond his competitors'."
"Although 400 square feet sounds small, Mackay was able to fit a full-size living environment inside…"
---
The Wedge, a small cabin by Wheelhaus – November 29th, 2012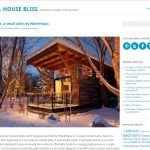 Small House Bliss is dedicated to showcasing well-designed and interesting small houses of all kinds. Their aim is to convince more people that living in a smaller house is not only possible, but preferable.
What Small House Bliss is saying about WheelHaus:
"WheelHaus is targeting the high end of the park model market, combining innovative designs with top-quality finishes. "
"The Wedge has a "rustic modern" look with siding that combines weathered wood, reclaimed from snow fencing, with rusty steel panels."