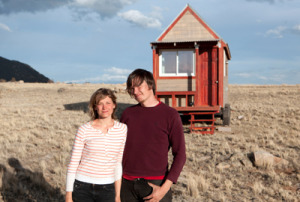 Decisions don't get much bigger than choosing a house, this isn't a casual purchase. You can't return or exchange a home. It's not easy to buy a new one next year if you find your home isn't fitting quite right. To be appallingly honest, it's possibly easier to change life partners or jobs than homes. So, yeah, buying a home is a pretty big deal.
Don't freak out. Like all big choices in life, there is a smart and educated route to making the decision. We at Wheelhaus want you to make a well-informed choice when you are buying your future home. Yes, we think you will be thrilled with your decision to buy a Wheelhaus but we are too passionate about housing to not want you to make the absolute smartest decision possible. Here are four things to consider when picking the right house.
1. Think about the lifestyle you want, not just the style of the home.
It's possible that you've been on Pinterest, collaging your dream home for a few years now and think you know exactly what you want. Just a reminder that what is pretty and what is functional are sometimes totally different things. When deciding on a home, don't forget to consider what will make the home comfortable and livable for you, not just good looking.
People also frequently forget to consider how much time they want to spend maintaining their home. Does time maintaining the lawn sound like a little slice of heaven or a chore? Do you want a spacious home that will require more care but offer more space? Or is a little home you can easily care for more in line with your lifestyle? There's no right or wrong answer but picking the right style and size home for your habits and hobbies is key to your long-term happiness.
2. Can you afford it?
This question goes beyond the basic numbers in your bank account or projected earnings. How much of your money do you want to spend on housing? If freedom, travel, entertainment or other life factors are more important to you than a large home, less of your money should be invested in your living space. A smaller home that affords you more time and money to devote to your other interests is an option. There is no need to overspend to get a home that is perfect for your life.
3. Do you love it?
It's easy to get caught up in the practical when buying a home (and important too!), but remember to listen to your gut and heart and not just the numbers in your mind. Yes, square-footage and price are important but how does the house make you feel? You are looking for a space where you can comfortably live a fulfilling and happy life. Does the space feel open, light and spacious in a way that inspires you? Is feeling warm and cozy a top priority? Remember, you are going to be spending a lot of time in this home. How your house makes you feel is just as important as the sense it makes on paper.