The beauty of a small living space is that it doesn't have to feel small. It can feel perfect, just right and convenient.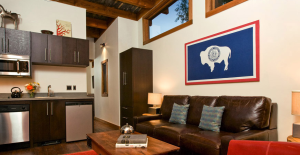 You can enjoy the ease of a small home, the quick clean up, affordable price, cheap utilities and easy maintenance, without any sacrifice of comfort. Personally, I wouldn't have thought that living in tiny home would be my dream.Yet, now that I know how to decorate appropriately and never let clutter accumulate, I prefer living in 500 shared, square-feet. Everything is close by and nothing is extraneous.My house is easy to clean and, best of all, no one ever guesses that it is only 500 square-feet because it feels so much bigger.
One major key to decorating and keeping your space clean when you live in a tiny home is to be brutally honest about what you need and love. I've found that I can have everything I want in my home, but I can hold onto a lot of things that I only kind-of like. If I'm never going to re-read a book or have a shirt that I haven't worn in a year, I donate it to charity.I know it's shocking to the general American public, but I have everything I could need or want and it all fits in my tiny home. I don't hang on to things that are just so-so. You will be amazed at how this skyrockets your quality of life.
Beyond keeping your space tidy and full of what you love, knowing how to decorate a small space is the key to thriving while living in a tiny home. Here are some dos and dont's to decorating your Wheelhaus.
Do…
Have a plan. Smaller spaces require a strategy. Create a plan of what is essential to your home before you start randomly buying. Make sure you are only filling your home with things that are functional and that you love.
Use light colors. Light colors on the floor and walls create the illusion of more space. Wheelhaus's cabins already feel spacious because of the high ceilings and abundance of windows but you can amplify the effect by keeping the walls a light color.
Pay attention to scale and size. A huge piece of furniture that barely fits is going to make the room feel cramped and small. By picking furniture that correlates to the size of the room, you can maximize your comfort.
Don't…
Collect clutter. You can actually get away with some large pieces of furniture or a few statement items as long as they are the primary focus of the room. Too many small items will make the room feel cluttered, whereas one oversized piece can make the room more luxurious.
Go the safe route. A small space is more affordable to decorate which means you can afford to take more risks. Have a paint color you've always wanted to try but are afraid is too bold? This house is the time to try it out. It's small and easy to paint. Why not?