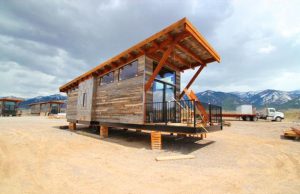 Outside Magazine online recently said, "Can't decide on the one perfect spot? Wyoming-based Wheelhaus offers six customizable, 400-square-foot models, so you can roam at will. Winter in the Rockies, summer in the Cascades. From $76,000." Wheelhaus cabins were included in the Perfect Things: 2014 Editor's Choice Awards. Now, I already know that Wheelhaus is a perfect thing. What I hadn't considered, especially since I focus on living a simple and minimal life, is that having multiple Wheelhauses might be one of the rare cases when more really is more.
I've learned to take my jealousy as an indication of what I want rather than just proof positive that I'm a horrible person. I suggest you do the same. Recently, I've noticed that I've started to become jealous of people with vacation homes. I live in Jackson Hole, Wyoming, so being jealous of anyone is kind of ridiculous, but the jealousy reared its ugly head nonetheless.
People getting away, enjoying a change of climate and culture has me green with envy. This world has so many beautiful places, how can I settle for living in just one region? The mountains are nice, but so is the ocean. I love the humidity of the south, but the dry heat of the Southwest also has it's own appeal. How am I supposed to choose between all of these great options? I'm just starting to realize that we don't have to choose. We just have to take advantage of all that living small has to offer. One of the best benefits is that a lot more of us can afford multiple homes.
To be honest, I hadn't considered having multiple Wheelhauses up until this article. I love living small and the freedom it provides. I know that less is often more. What I like best about the idea of having multiple Wheelhaus Rolling Cabins is that I don't have to be a multi-millionaire in order to live like one.
A cabin in the mountains and a cabin in the dessert doesn't have to be reserved for the top 1%. It just takes shifting priorities. Do you really need all that square footage? Do you need extra bedrooms that might be used once a year? Do you need a place to store stuff that you never use? I've learned that I don't. Outside Magazine seems to agree with me. I enjoy the freedom provided by minimal square footage and an extremely manageable mortgage. That freedom facilitates the favorite parts of my life: skiing, hiking, biking, traveling, and adventuring.
Your dreams don't have to be dictated by your HOA fees. Wheelhaus offers luxury living wherever you can roll your Cabin. And, they deliver anywhere in the USA. Where do you want your new home to be? Wheelhaus makes it easy and you don't have to choose just one.