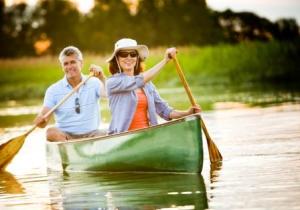 Why not fully take advantage of that freedom that retirement offers by downsizing your house or vacation home? When raising a family, it can be important to have multiple bedrooms, a big yard for kids to play in and numerous bathrooms. An empty nest is a great opportunity to redesign your life and make enjoyment your number one priority. Wheelhaus Rolling Cabins make living life for enjoyment a lot easier.
There are big, practical reasons to consider smaller living for retirement. A smaller home means saving your most precious resource: Time. Less square-footage means less time spent on maintenance and cleaning. Time that used to be spent vacuuming and dusting can now be spent outdoors or with the grandchildren. Clearing the non-essential clutter also saves time. Downsizing requires figuring out what objects are essential and truly loved. You'll waste less time sorting through the non-essential to find what you need and start living more efficiently.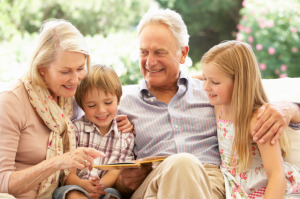 A smaller home also has financial benefits. A great way to make some extra money from downsizing is to have a garage sale or sell unwanted items on eBay or Craigslist. There will also be ongoing savings on utilities. A smaller house means less space to heat or cool and less areas to use electricity. In a Wheelhaus, this advantage is multiplied by energy saving appliances, quality insulation and a design that supplies lots of natural light.
What are the three most important factors in real estate? Location, location, location! Good news. Retirement frees up your location options. With no worry about the commute to work or the local school system to consider, there is a whole new plethora of possibilities. Wheelhaus Rolling Cabins are designed for all climates, from extreme heat to blustery snow. Plus, wherever you choose to live in the United States or Canada, your Wheelhaus can be delivered. Whether that means your next great adventure or moving closer to family, we've made it easy for you to move to your dream location.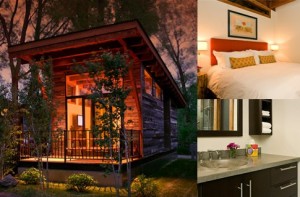 Ready for more good news? Wheelhaus' Rolling Cabins fit the requirements of a Recreational Park Trailer, meaning they can be set up at RV parks, campgrounds or even in a backyard. Wheelhaus Rolling Cabins make a great detached a mother-in-law suite that can be setup in a back yard.
With Wheelhaus, you get high quality living for an affordable price. This has given many people the opportunity to ditch their mortgage and start spending money on the pleasures of life. A smaller home affords more money to travel and play. Cutting down on the cost of your home means cutting way down on your cost of living.
The best news is downsizing doesn't have to mean downgrading. Every Wheelhaus comes equipped with luxury furnishings and appliances. Elements like the king size bed, two HG flat screen TVs, a large bomber leather sofa and much more keep the Rolling Cabins feeling luxurious. Retirement is a natural time to reprioritize your life. Wheelhaus aims to show you that living with less can enable you to live your biggest dreams.