Luxury packed into a small, portable size! The RoadHaus Wedge RV is Wheelhaus' newest model and our recent tour of Fireside Resort highlighted the benefits of this tiny, yet complete package. Imagine if you will, all the essentials in life back into a 240 SQ FT rolling cabin!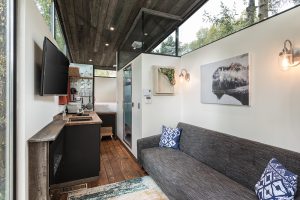 Upon approaching this tiny home, I was flabbergasted at how small it is. Knowing all the details encompassed in this rolling tiny home, I was surprised that it was so small and on wheels no less. Honestly, it had it all. Sitting room. Check. Functioning kitchen. Check. Complete bathroom. Check. Queen sized bed. Check. It even had the perfect size deck and a fireplace!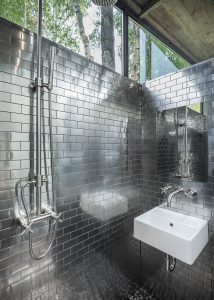 The bathroom was probably one of my favorite features. Both the toilet, sink, and shower were enclosed in one small room and the rain-like shower head was perfect. The bathroom had high windows that allowed plenty of light but also provided complete privacy.
Another redeeming feature of this rolling tiny home was the vaulted, Wedge-shaped ceiling. This allowed large windows that lined the ceiling of the tiny home to gradually get bigger, allowing in more light. It gave the feeling of being outside as we were able to see the surrounding trees, but could not see other tiny homes nearby. There was also a large glass window/door that you entered through and there were curtains that hung from the bottom of the top windows that provided privacy.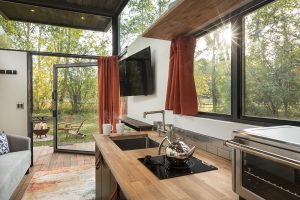 As with the Wedge and the Caboose, the finishes in the RoadHaus Wedge were of high quality. Beautiful wood floors, high-end fixtures, and a gorgeous butcher's block countertop were found in this model.
The RoadHaus Wedge RV is also portable and this particular model was on wheels ready to go. There were a couple steps up to get to the spacious deck. There were no railings on this deck, making it perfect to sit on. Overall length was 29'6 FT and this rolling tiny home seemed like it would be easy to navigate.