To continue on with our quest for the ultimate tiny home living efficiency, we decided to delve a little into outdoor storage for tiny homes and focus on garden tools and potential grill needs. As the Flat Roof Caboose is our most popular model, we decided to design the storage solutions based on this model and look at what you might need.
Tiny home living is about living simply. We want to maximize the storage space while still maintaining an elegant and functional outward appearance. We do not want the contents of our tiny home to spill outside.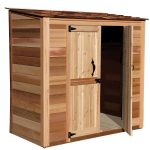 If you plan to park your tiny home in one location, you will want to consider a storage shed that can house more equipment. At both Lowe's, Home Depot, and on Amazon, there is a wide selection of wood storage sheds that can be placed flush against the Flat Roof Caboose or free standing away from the tiny home. To the right of the front door of this tiny home, there is about a 10-foot wall that would accommodate a lean-on storage container. You will want to choose one that blends with the color scheme that you choose for aesthetic reasons. Here is an example of a lean-on storage shed from Outdoor Living.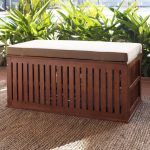 If you plan to use your tiny home infrequently or to move your tiny home in the near future, you may not require as much outside storage. We would suggest considering a bench seat on one of your decks that could double as a storage shed for various tools. There is a wide assortment of options online, and we have chosen a few that would blend well with our Flat Roof Caboose and sit nicely on one of our decks. Coral Coast Parkway Deck Box and Belham Living Brighton Deck Box are examples of natural wood storage boxes that can be used for additional seating and provide you will a little extra storage outside your tiny home.
For outside tools, we thought long and hard about what you would actually need if you did a little gardening and grilling. You will likely need a broom, a dust pan, a snow shovel, a dowel, a pruner or scissors, a grill, and a grill brush. The grill depends on your taste preferences. Cuisinart has a small portable Grillster Portable Gas Grill at Target and Char-Griller has a Table-Top Charcoal Grill and Side Fire Box on Amazon.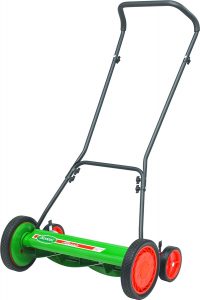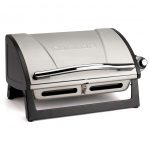 Additionally, you made need a garden hose, a lawn mower, a garbage can and painting supplies. For a garden hose, you will want one that condenses pretty small so you could try one like this Orbit Hose or this Pocket Hose both found at Target and various other stores. There are several options for lawn mowers that require no gas and can condense pretty small, including Scotts 20-inch Classic Push Reel Lawn Mower found on Amazon and Fiskars StaySharp Lawn Mower found at Home Depot. The larger your yard, the more likely you will want to consider a gas lawn mower.
Ideally, outdoor storage for tiny homes should blend with the design of the tiny home. Furthermore, keeping the yard around your tiny home decluttered will keep you feeling happy and at ease. If you are finding that you have too many items, review what you really need. Consider whether it is better to buy a larger storage system or to have a "garage sale" and downsize a bit.