If you want to have a retreat away from civilization, we have a great spot for you! In the Sawtooth Mountains and northwest of Sun Valley, the town of Stanley, Idaho will have a Wheelhaus tiny home community. It is the perfect retreat! Meet Meadow Creek Resort and Spa, the newest Wheelhaus tiny home community!
Like Fireside Resort, this place of treat provides a relaxing, outdoor experience with fabulous views. Meadow Creek Resort & Spa is located in the pristine, scenic, untouched Sawtooth Wilderness near the banks of the Salmon River. In this outdoor-lovers paradise, you can fish, hike, mountain climb, bike and whitewater boat. In the winter, there is excellent backcountry skiing, cross country and snowshoe trails, and snowmobiling.
Bill & Peggy Hart, the founders of this potential development, choose an excellent outdoor location with breathtaking views and converted an old inn into this tiny home community. Similar to Fireside Resort in Jackson, they are planning to sell the units as vacation rental cabins in a "hotel" like structure, complete with a spa, community area, and all infrastructure costs included.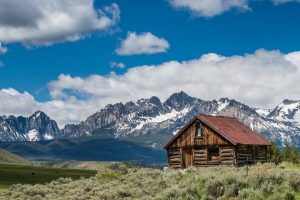 A Wheelhaus tiny home community does not have to be large. In fact, Meadow Creek Resort & Spa will have 9 units, making it a quaint and quiet vacation community. This potential development will also have our most popular models, the Caboose and the Wedge, and is being planned for the Spring.
If you are considering whether or not to develop a Wheelhaus tiny home community, start by visiting Fireside Resort. We believe that you will find that Wheelhaus tiny home communities are excellent investments if done right. Just ask the owners of these communities!