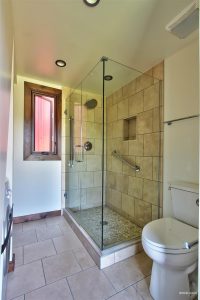 Since we already provided you with a cheat-sheet on how to simplify your kitchen, we felt it was important to help you accomplish a simplified bathroom as well. We will again base our list on our most popular model, the Wedge, and help you eliminate the clutter while having a fully functional bathroom.
For starters, let's discuss bath linens. The Wedge model can sleep 4 adults comfortably. Thus, we would suggest 4 large bath towels, 4 washcloths, and two hand towels. One large floor mat, about 2 feet by 5 feet, would easily fit between the shower and sink, allowing the water to be contained.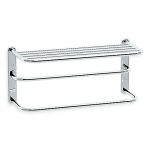 The linens will fit on the shelf in the bathroom closet, but you may want to consider hanging either a hook or a drying rack to free up the closet space for something else. This Gatco Metal Spa Rack from Bed Bath & Beyond would work perfectly in the bathroom when placed above the toilet.
In regards to bathroom paper and cotton goods, it's important to strike a balance between saving on space and saving on cost. We would recommend buying toilet paper in packs of 12 to save on some cost but to also provide enough storage space for other items. With tissue paper, we would recommend keeping an extra box of tissue paper in storage and having a tissue box that can be placed on the toilet in a nice container. Q-tips and other cotton accessories will fit in the storage drawers we will discuss next.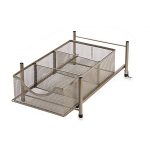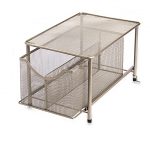 Storage under the sink will need to be organized, accessible, and efficient in order to make your simplified bathroom work well. A balance between free space and organized space is also key, allowing you to store those taller containers of toiletries. We found these cabinet drawers on Bed Bath & Beyond that would be a good storage fit for the 2ft by 4ft space under the sink. 
Within these storage drawers, we would include the bare essentials. Our list would include a hair-dryer, a hairbrush, lotion, a razor (electric or plastic), three toothbrushes (in case your guests forget theirs), toothpaste, dental floss, mouthwash, deodorant, and any medicine or vitamins you use. We would also place hair spray, a curling iron, perfume/cologne or make-up in these shelves. We suggest getting 1 extra deodorant and 1 extra toothpaste if space allows for it.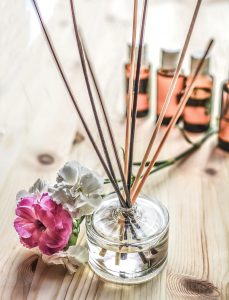 In the other free space below the sink, you will want to store the extra toilet paper, the extra tissue box, an extra shampoo and conditioner, an extra body wash, an extra hand soap, and cleaning supplies for the tiny-home and bathroom. You will likely want to keep the cleaning supplies in a small bucket for accessibility.
To maximize on the feeling of space, it is important to keep your bathroom as decluttered as possible. Hence, we would only place a hand soap and a small display of fragrant dried flowers, a candle, or a fragrance diffuser on the sink top. Along with the tissue box on the toilet, your bathroom will seem more spacious.
Organization and efficiency is key to a simplified bathroom. Keep the room free of clutter while maintaining an organized storage space under the bathroom sink will help you accomplish that.