It's time to discuss your tiny home bedroom. We've covered bathrooms and we've covered kitchens. Let's discuss storage solutions for that place of retreat. Afterall, sleep is one of the most important things to a happy and balanced life.
Five Tips for Optimizing Storage in Your Tiny Home Bedroom
1. Consider underbed storage.  We found this great frame on Amazon that will allow you to shed that box spring, and gain 16 inches of height under your bed. If you have a king sized bed in your tiny home bedroom, that is A LOT of storage space. We also found this nice bed skirt with multiple available colors that has the height that you need to hide the look of clutter.
2. Create functional art. We found some great tips on living in a small space here. One of these tips suggested creating a scarf decoration with a hanging rack above your bed.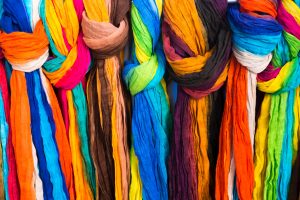 You can also use decorative shelves to also display jewelry, perfume bottle, and candles. You can also create a peg board design with your hats and jewelry.
3. Use storage shelves wisely. In addition to use storage shelves to divide spaces, you can purchase cloth storage drawers that will neatly hide your clutter while creating a clean and crisp look in your bedroom.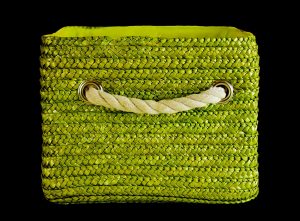 Target, for example, has a storage shelf system with cubed drawers that will add color to your room and not clutter.
4. Optimize closet space. Utitlize your closet space to the maximum by including hanging racks on your doors for both jackets and shoes. Consider include a shoe shelf to allow you to stack as much as possible. This example at Target will allow you to hang your shoes on the rod or this example at Amazon will allow you to store your shoes on a shelf in your closet.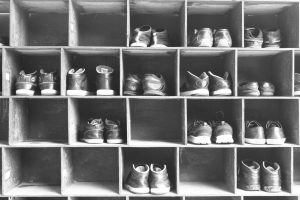 5. Be organized. In addition to decluttering your life, take the time to put things back. Not only will this help you find your belongings in the future, but it will keep your bedroom looking neat and allow you to relax better in the space.
The more organized and the less cluttered your bedroom, the easier it will be to unwind in this place of refuge at the end of the day. Your tiny home bedroom can be big with the use of effective storage solutions and good organization. An investment of time to maintaining it is also necessary, but completely worthwhile. Good luck in your efforts!